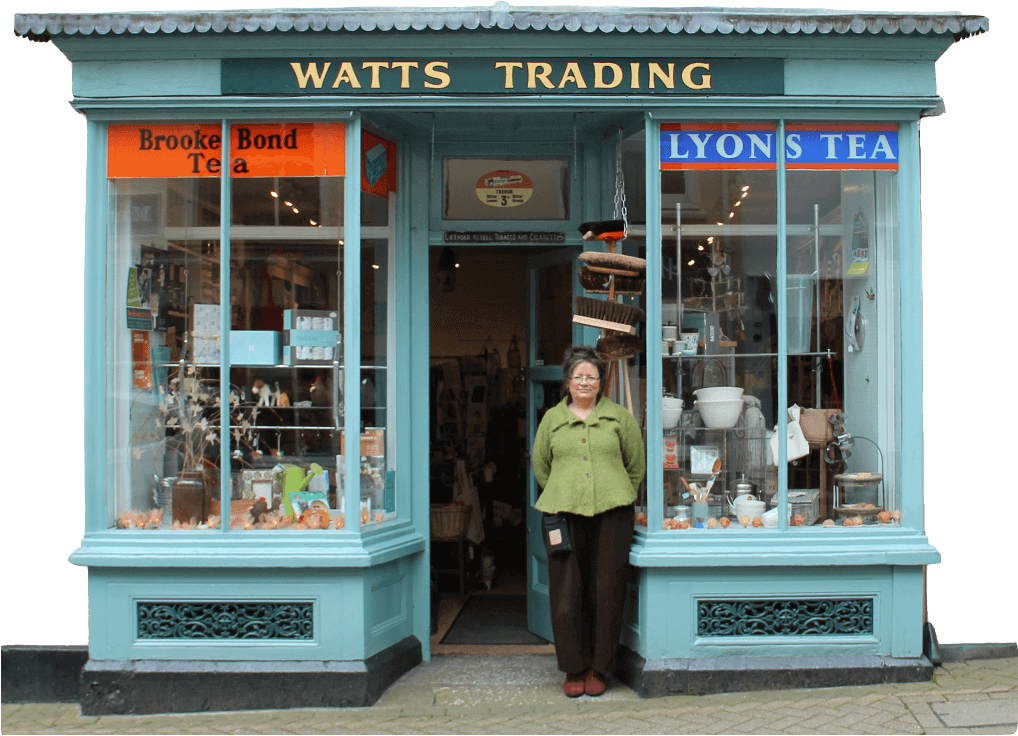 Welcome to Watts Trading Organic Emporium
Watts Trading is a family-run independent shop in Lostwithiel, south east Cornwall, selling a wide range of lovely products that do not harm the environment.
Our eclectic general store sells everything from paints, brushes and cleaning products to clothes, toys and store-cupboard foods. You can stock up on essential day-to-day supplies as well as buy special gifts and treats.
The products in our quirky little shop aim to be as environmentally-friendly as possible. Everything we sell is either local, natural, organic, recycled, fairtrade or - better still - a combination of all the above. Alongside this we have an appreciation of finely crafted goods to use in daily life.
Our philosophy is to recycle, reuse and practice fair trade, to use products that have not harmed the planet by their production, and that will rot back into the earth when they have reached the end of their useful life and leave no trace. The shop is housed in a Georgian Grade II listed building.
The Victorian shop front windows still have the advertisments from one of its past incarnations as a grocers shop. Its beautiful appearance is popular with visitors and locals alike, particularly in Summer with flower baskets and brooms hanging at the door.
Popular products
Possibly one of the largest selections of natural and real-bristle brushes in the country - some made specially for our shop - from personal grooming to brooms and paint brushes.
New seals for old Kilner jars
We have commissioned sealing rings for the three old style Kilner jars to be specially made for us. Perfect for homemade pickles, jams and chutneys or simply for stylish storage.
We stock the full range of Earthborn claypaint, the first environmental paint sold in this country with the European eco label. These amazing clay-based breathable paints have a distinctive, ultra matt finish.
Sooth your soul with a refreshing brew. We stock Yogi Teas, delicious herb and spice teas based on unique Ayurvedic tea recipes, and West Country Teas, award-winning teas which are a cut above the rest. All our teabags are plastic-free.
Scented candles from the St Eval Candle Company are artisan made and inspired by the beautiful Cornish countryside. We also sell wonderfully soft woollen blankets and fleeces for snuggling under, the perfect cosy combination for long dark nights.
Household cleaning products made from ethically and sustainably sourced plant-based ingredients which don't cost the earth, in any sense. Bring your old containers into the shop to be refilled. For more information see the Bio-D website.
Notebooks designed to fill, keep and treasure.The Traveler's Notebook has a hand-made leather cover while the inside can be customised to suit your needs to hold notes, folders or pockets for business cards. It comes with a repair kit in bright colours to add extra bands or replace worn out elastic.
Visit the shop in Lostwithiel